Kenya Lodge Safaris
3 Days Maasai Mara Safaris
3 Days Amboseli Safaris
3 Days Samburu Safaris
4 Days Masai Mara Safari
4 Days Masai /Lake Nakuru
4 Days Aberdares/Samburu
4 Days Naivasha/Masai Mara
5 Days Nakuru/ Masai Mara
5 Days Masai Mara/ Nakuru
6 Days Amboseli/Mara
6 Days Samburu/Mara
7 Days Samburu/Tree/ Mara
7 Days Ark/ Samburu
8 Days Samburu/ Mara
8 Days Aberdares/Mara
9 Days Aberdares/ Amboseli
10 Days Samburu/Tsavo
12 Days Kenya Classic Safari
15 Days Migration Safari
---
Kenya Camping Safaris
3 Days Maasai Mara Safari
3 Days Amboseli Safari
3 Days Samburu Safari
4 Days Nakuru/Maasai Mara
4 Days Maasai Mara Safari
6 Days Mara & The Lakes
6 Days Samburu/Mara
6 Days Mara/Amboseli
8 Days Budget Camping
---
Mombasa Excursions
Half Day Mombasa Tour
Full Day Mombasa Tour
Tamarind Dhow
Wasini Island Dhow
Tsavo East National Park
Shimba Hills National Park
---
Nairobi Excursions
Nairobi City Tour
Nairobi National Park
Bomas Of Kenya
Carnivore Restaurant
Out Of Africa
Limuru Country Tour
Rift Valley/Lake Nakuru
---
Mount Kenya Routes
7 Days Sirimon Route
6 Days Sirmon Out Naro Moru
6 Days Naro Moru Route
5 Days Chogoria / Naro Moru
5 Days Sirmon Out Chiogoria
6 Days Chogoria / Naro Moru
---
Kenya Special Safaris
Whitewater Rafting Kenya
Kenya Air Safari Packages
Kenya Honeymoon Safaris
Kenya Balloon Safaris
Airport Transfers
Kenya Lodge Safaris


KTSH 06

4 Days Samburu, Aberdare Lodge Safari

Day 1: Nairobi - Samburu National Reserve, Kenya
Distance: 360 km (5 hrs, 30 min.) Drive north through cultivations of sisal and pineapple to the northern frontier district and on to Samburu National Reserve. Afternoon game drive in this reserve famous for its exclusive game viewing. Dinner and overnight at Samburu Serena Lodge or Sarova Shaba Lodge, L,D.

Day 2 : Samburu Game Reserve, Kenya
Full day of game viewing drives in this dry semi-arid park with its striking background view of the Mathew's Range. The gently flowing Uaso Nyiro river which traverses this Park provides evergreen vegetation for the rare gerenuk, Grevy zebra and reticulated giraffe found in this park. All meals and overnight at Samburu Serena Lodge or Sarova Shaba Lodge, B,L,D.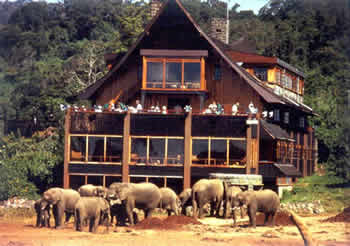 Day 3: Samburu to Aberdare National Park, Kenya
After breakfast at the Lodge. Drive to the Aberdare Country Club. Lunch at the Club. Afternoon transfer into Aberdare National Park and on to The Ark Lodge for bird watching and overnight floodlit game viewing from the lodge viewing decks. Ark Lodge, set in the heart of the Aberdare National Park, is an unique tree lodge with a veranda that overlooks a floodlit waterhole and saltlick allowing undisturbed views of wildlife visiting the waterhole. Elephant, rhino, leopard, bushbuck and occasionally an elusive bongo and giant forest hog have been sighted. The 60 guest rooms are all en-suite. All cabins have private bathrooms with shower, and are comfortably furnished with bedside lamps and carpeted floors to ward off the evening and morning chill. Resembling and named after Noah's Ark, The Ark Tree Lodge is designed with 'decks' from which numerous balconies and lounges provide superb vantage points for game viewing. A ground level bunker provides excellent photographic opportunities and takes you closer than you would believe possible to the wildlife. Dinner and overnight at The Ark Lodge, B,L,D.

Day 4: Aberdare to Nairobi, Kenya
After breakfast, return to the base hotel. Reconnect with your driver for a drive back to Nairobi to arrive just before lunch where the tour ends, B.

Special remarks:
Children below 7 years are not admitted at the Ark Lodge and/or Treetops Lodge. Only an overnight rucksack is permitted at the tree lodges owing to limited space in the cabins. Excess luggage is stored at the base hotel. Travellers are advised to pack warm clothing for the Aberdare National Park since nights are pretty chilly. The above itinerary may be rerouted to operate on the reverse direction in which case the price remains unchanged.

Tour Cost Includes:
-Guarantee price/guarantee safari on confirmation
-All ground transport whilst on safari in a comfortable safari vehicle equipped for game viewing, photography and touring
-Full board accommodation whilst on safari and meal plan as described, B=Breakfast, L=Lunch and D=Dinner
-Accommodation in double/triple room
-All park entrance fees to include government taxes
-Service of an English speaking professional driver/guide
-All game drives as detailed in the itinerary
-Bottled water whilst on safari
-Start and end in Nairobi.
-Personalised service

Tour Cost excludes:
-Tips
-Laundry
-Beverages/Drinks
-International flights
-Visas
-Items of a personal nature
-Any other extras not detailed in the above itinerary
Tanzania Lodge Safaris
3 Days Ngorongoro Crater
3 Days Ngorongoro /Manyara
4 Days Manyara/Ngorongoro
5 Days Manyara/Tarangire
5 Days Manyara/Serengeti
6 Days Manyara/Serengeti
7 Days Manyara/Tarangire
7 Days Manyara/Serengeti
---
Tanzania Camping Safaris
3 Days Ngorongoro Crater
3 Days Ngorongoro /Lake Manyara
4 Days Manyara/ Tarangire
5 Days Manyara/Ngorongoro
5 Days Manyara/Serengeti
6 Days Manyara/Serengeti
7 Days Manyara/Ngorongoro
7 Days Manyara/Serengeti
---
Kenya Tanzania Combined
8 Days Kenya Tanzania Safari
9 Days Kenya Tanzania Safari
11 Day Kenya Tanzania Wildlife
12 Days Kenya Tanzania Tours
14 Days Kenya & Tanzania Safari
15 Days East Africa Safari
---
Mount Kilimanjaro Routes
7 Days Marangu Route
8 Days Machame Route
7 Days Mweka Route
7 Days Umbwe Route
8 Days Shira Route
7 Days Lemosho Route
8 Days Rongai Route
---
Uganda Gorilla Tracking
3 Day Mountain Gorilla Safari
5 Days Gorilla Safari in Uganda
14 Days Hot Spots Of Uganda